The Joshua Tree is a member of the lily family.
Neither tree nor cactus, the Joshua Tree was named by Mormon pioneers who thought its arms resembled Joshua beckoning them to the promised land.
Some of the hills and small mountains in the park look like piles of loose rocks.
Nolan loved this overhanging boulder at one of the rest stops. People were climbing the opposite face of the rock.
These gigantic rocks are the result of molten lava that oozed up toward the surface and then cooled. Over time this monzogranite developed a system of rectangular joints then they were exposed when flash floods washed away the ground surface that covered them.
I just loved all the interesting shapes.
This is Saddle Rock and it is much larger than it looks in this photo. Read all about it in the following photo.
Double click to enlarge. I learned some interesting facts about climbing at Joshua Tree National Park. It is one of the most popular rock climbing areas in the world and there are 4,500 recognized climbing routes throughout the park!
We decided to got for a short hike and this is the trail we took.
We saw these flowers all along the part of the trail that followed a wash. See how tiny they are? I think they are Desert Sunflowers.
We also saw these flowers in the wash. They aren't much larger than the yellow ones. They are called Chia.
Just one of the interesting rock formations on the route.
We saw this formation and Nolan called it the Dog House so I sent him off to test it out. Yep, stuck in the dog house again. He was bummed because we were unable to get the internet working the afternoon before.
I told him the niche looked more like a religious place so he began to pray for the Internet to start working.
A view of skull Rock from across the road. Lots of people around it.
More interesting flowers but the photo is extremely blurred. I was trying to show that a yellow and a red flower came off of each stem. Very different. They are called Desert Rock Pea. Next is a better picture.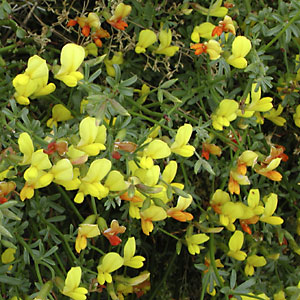 Maria Whalton's grave is being overtaken by this tree.
This beautiful flower is a California Buckwheat that I saw along the Skull Rock trail but we didn't know it's name until we saw a huge bush of it at the visitor center.